Sunset along South Bay Trail, Bellingham. September 26 2012.
How do we solve global warming?

Technology of course. Ever evolving solar panels, hydrogen fuel, better batteries, electronics that becomes more sophisticated while using less energy.


Is that the whole story? That's part of the story, but what about slowing down the pace of our lives? What about making society more tranquil and user friendly? What about less rat race? We could enjoy more things like bicycling and contemplation. We could have less obesity. Could there be improvements in life like longer vacations and less pressure? Life that's a bit more in the slow lane, the scenic route.

I think both approaches to solving the problem of global warming can work together. No need for a war between the high tech advocates and the concept of slowing down. It can all get us to better solutions.

Explore the labyrinth of my website and blog as I post photographs and writings that are usually around these topics of lifestyle and technology as it relates to sustainable economics and especially my very photogenic interest in bike touring.

An unusual business card (or maybe not a "business" card) I made in late 1980s.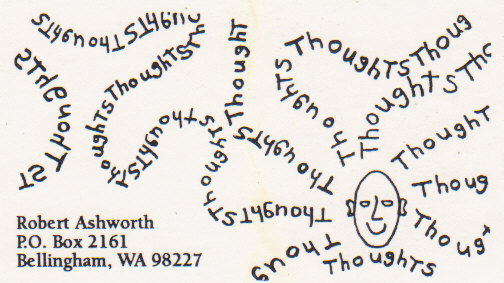 Below, from my content on Flickr.